Welcome to the home of

<![if !supportLineBreakNewLine]>
<![endif]>
Cattery of Excellence
Owner: Barb Kimmet
14455 West Union Road
Spencerville, Ohio 45887
419-230-5169
<![if !vml]>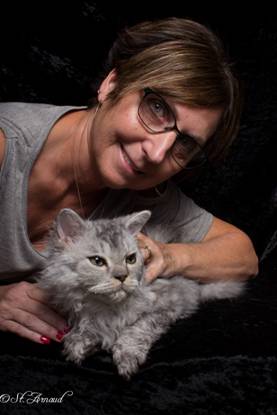 <![endif]>
<![if !supportLineBreakNewLine]>
<![endif]>
---
---

My goal is to produce Coat and Color QUALITY/Breeder and Show QUALITY Kittens keeping the health of the parentage intact. My special project goal right now is to produce the curliest Selkirk Rex Kittens EVER! I breed my cats for the LOVE of cats and I am determined to put excellent quality cats into your homes for you to LOVE.

My Cattery has been in business since 2000, which at that time I only had two Himalayan Females.  I now raise the Selkirk Rex and loving it dearly. The Selkirk Rex originated in 1987 from a female blue-cream and white kitten with green eyes in an unusual curly coat. She was found at the Montana Humane Society and named Miss DePesto, "whiskers were curly, ears full of brillo hair, and body coat looked like a body wave. Miss DePesto was bred to a black Persian, in a litter of six, three were curly. The following year a black/white curly male was bred back to his mother and of the four kittens born, three were curly and one straight hair. The conclusion: Miss DePesto was the beginning of a new mutated gene. It does not matter if curly or straight hair they all have a wonderful loving personality. The Selkirk Rex comes in long or short curly or straight hair. They are so cute and lovable that I know after you see one you'll want one of your own to love.

I have a wonderful husband, two boys, three step-children and grandchildren. I have a couple of grand-daughter's  Jasmine and Danica that have shown cats in shows and Danica has her own household pets that she shows.
I am proud to announce that Kimmet's Cuddly Bunch – Cuddly Fur Cattery has expanded and we now are breeding Boer Goats. Kimmet's Cuddly Boer's are registered with USBGA. We found the Boer Goats are a pleasure to watch and very entertaining. We hope to have Boer Kids for the County fairs.
CFA Cattery of Excellence for 2002-2013!
This is a certificate that was given to us by the Cat Fanciers' Association. This award was given to us for overall cleanliness and upkeep of our cattery. We are very proud of this award. We worked very hard to create a cattery that is pleasant for our animals and us. We make sure that all of our felines get plenty of exercise and stimulation In fact our Rottweiler's and Boxer are friendly to the felines and the felines are canine friendly. Our animals are exposed to all different age groups and all enjoy the animals, especially the grand-children.
This is a link to the Cat Fanciers' Association web page.  It is a very well put together page and has lots of information about felines.

<![if !vml]>

<![endif]>


This Cattery has been tested NEGATIVE for FELV/FIV & PKD!
Last update 11/30/2019
---